Metal Spinning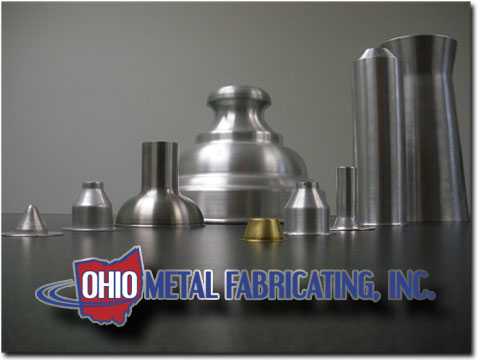 An assortment of hand spun parts produced by Ohio Metal Fabricating, Inc

Ohio Metal Fabricating is a full service Metal Spinning facility able to provide a wide variety of concentric shapes, ranging up to 104" in diameter, .187 material thickness for Hand Spun Parts and 50" diameter, .187 material thickness for CNC Spun Parts.



Metal Spinning Equipment
M&M CNC Spinning Lathe

Our M & M ATT 350 represents the absolute latest technology available in metal spinning. It has fully automated setup, force control, CNC trimming, and an integrated flanging device. Its versatility and ease of setup makes it perfect tool for lowering costs on long runs, short runs, and even prototyping.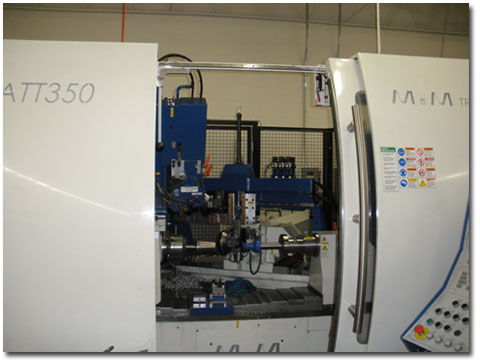 Hercules Nova Sidera CNC Spinning Machine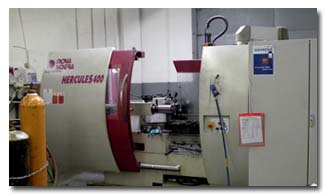 Great for long runs with precise tolerances, our Hercules Nova Sidera features automated production of parts up to 50" in diameter at thicknesses of .010" to .187" and with tolerances as close as .002"


4 Hand Spinning Lathes
These are perfect for prototyping new parts or for producing short runs
Our hand lathes can produce parts up to 104" in diameter at thicknesses of .010" to .187" and with tolerances as close as .002"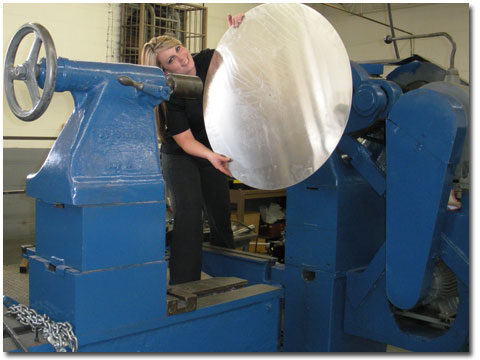 Parts produced by Ohio Metal Fabricating, Inc.are used in commercial, industrial, military, residential and institutional applications.

Industries and products that utilize our parts and services:

* Aerospace
* Agriculture
* Air Filtration
* Air Handling
* Chemical Processing
* Energy
* Food and Beverage Processing
* Food Service
* Furniture
* Industrial Machinery

* Lighting
* Medical
* Military
* Pollution Control
* Retail Fixtures
* Appliances
* Commercial Vehicles
* Communications
* Construction
* Electrical

* Farm Equipment
* Material Handling
* Petroleum Processing
* Railroad
* Recreational Equipment
* Refrigeration
* Safety Products
* Scientific Equipment
* Welding

The Metal Spinning Process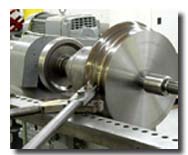 Metal Spinning is a forming process used to produce round hollow metal parts or shells. To produce a part, a sheet metal disc, or blank is spun on a lathe, while held against a spinning chuck, or mandrel, with a tailblock. As the disc rotates, spinning tools or rollers are used to push the down to the spinning chuck or mandrel. The material thickness of the finished part can be closely controlled, with reduction of 10% to 50%. Metal spinning is a low fixed cost, high variable cost process. Tooling and setup is relatively inexpensive, while production time will run from 5 to 15 minutes.
Metal spinning is the most cost effective way to produce prototypes, small quantity orders and for materials that are highly pliable such as O-tempered aluminum and lighter gage steel and stainless steel.
CNC Spinning is used for high quantity production where consistency is required and short runs of more difficult to spin materials.
Tooling for metal spinning consists of a spinning chuck or mandrel, a tailblock, rollers and a deburr block. The spinning chuck is generally shaped like the inside dimensions of the part to be produced. The chuck can be made from wood, synthetics, soft steel or heat treated tool steel depending upon the material of the part and the amount of pieces to be produced. Depending upon the shape of the part to be produced, multiple spinning tools and specialized rollers may be required.
Almost every metal that is available in sheet
form may be spun, including but not limited to: