Equipment and Capabilities
Ohio Metal Fabricating Inc. specializes in the art and craft of high quality hand metal spinning and CNC machine metal spinning. We can spin metal up to 104" in diameter with thicknesses ranging from .010" to .187" and with tolerances as close as .002".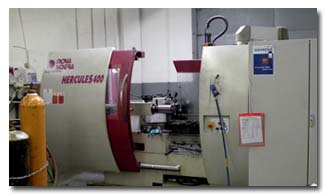 To provide a complete line of services to our customers, we use specialized equipment for laser cutting, CNC spinning, and traditional hand spinning. To achieve top results, we utilize a combination of traditional hand spinning equipment, state of the art CNC spinning equipment, and the latest in flat plane and 3D laser cutting machinery. To give a better understanding of our capabilities, here is a listing of some of our equipment.

Equipment
Mazak 6-Axis 3 Dimensional Laser Cutter
Mazak Flat Plane Laser Cutter
M and M Spinning Lathe
Hercules Nova Sidera CNC Spinning Machine
4 Hand Spinning Lathes
Punch Presses ranging from 16 to 20 ton
CNC Turning Centers

Cuda Wash System
Drill Presses
Grinders
Prototrac
Saws
Manual Lathe
Tumble Deburrer
Design / Engineering
---
Shipping / Delivery
Shipping and Packaging Equipment
Full Service Loading Dock
26ft Box Truck

1/2 Ton Pickup
Box Coding
---
Production Related Services
We also offer services related to our manufacturing
which include but are not limited to:
custom assembly
penetrant inspection
welding
punching
beading

trimming
deburring
buffing
sanding

anodizing
plating
painting
polishing